Now accepting applications for guardian homes! Call Gerry at (207) 712-4368 to see if you qualify.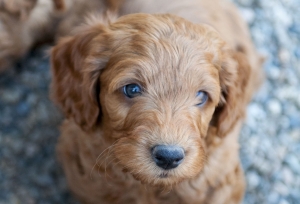 Adorable Down East Labradoodles (ADEL) is a small, family breeder of mini and medium Australian and multi-generation labradoodles. We are located in Windham, Maine — less than 10 miles from Portland and just two hours north of Boston, Massachusetts. (Update: We've recently relocated to Sun City, Arizona — near Phoenix — but we still serve New England and beyond!)
We breed cream, apricot, red, chocolate, and black and white mini and medium labradoodles. Our puppies are raised in our home and are socialized with adults, children, and other dogs daily. You can be sure your future furry family member will have a sweet, gentle disposition. We pride ourselves on our well behaved, cheerful, and intelligent puppies. Our labradoodles make terrific family companions, activity partners, and even therapy dogs. Customers tell us all the time that their ADEL labradoodle is the best dog they've ever had.
Our labradoodles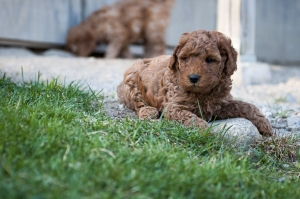 By choosing only the highest quality breeding dogs available, we ensure your puppy will be as healthy as possible when you bring him or her home. Our sires and dams undergo rigorous health screening for inheritable diseases, and all of our dogs have health clearances for their hearts, elbows and patellas, hips, and thyroids, amongst others. We put our dogs' health above all else.
If you're looking for a dog that's intelligent, eager-to-please, playful, athletic, cuter-than-a-teddy-bear, and loving, then an Australian labradoodle is right for you. Please explore our website to find out about available puppies and upcoming litters, or contact us to begin the process of bringing home your own labradoodle. (Or just go through our labradoodle photos and videos for some cuteness overload.) We look forward to hearing from you!