blog for more pictures and updates on their progress.
Availability of our Australian and American multi generation labradoodle puppies is subject to change at any time. Though we update this page often, it's best to contact us for the most up-to-date information.
Check out the video of our adorable labradoodle puppies below, and then scroll down to choose the one for you!
ADEL's KAYA & PATCHES labradoodle puppies were born September 22nd 2017.
All of these puppies are spoken for..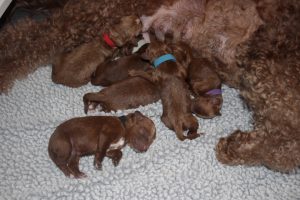 Convinced an Adorable Down East Labradoodle is right for you? We can't say that we're surprised! Now all that's left to do and fill out an application, decide on a color (will your labradoodle be apricot or cream? black or chocolate?), and start puppy-proofing the house!