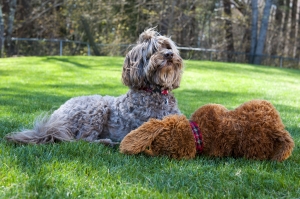 Tully the Adorable is our registered therapy dog. Tully and Betsy are participants in the Pet Partners Program sponsored by the Delta Society .  Therapy dogs visit hospitals, nursing homes, and other facilities. Research shows that the presence of a therapy dog provides relaxation as well as reduction of loneliness and depression in the patients that are visited.
Tully and Betsy have volunteered in a variety of settings which include:
1) a neuro-rehabilitation center in Portland Maine where they were participants in an animal-assisted therapy group focusing on the improvement of  memory, communication, motor, and social skills of the group's members;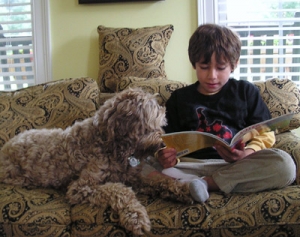 2) visits to the community center in Buckeye, AZ;
3) a R.E.A.D. Program at the Baxter-Memorial Library in Gorham, ME;
4) visits to an assisted living facility, local hospitals, and a children's home.
Tully has mastered additional skills required to be part of the Intermountain Therapy Animal's (ITA) R.E.A.D. Program. R.E.A.D. stands for Reading Education Assistance Dog. Tully loves listening to stories, especially about animals, while the children enjoy reading to Tully. Pre and post-testing on children that read to a dog shows improved reading scores. This is attributed to the fact that the dog is a non-judgmental listener and, thus, encourages the children to practice their reading skills in a relaxed environment.
Tully's gentle and caring disposition, as well as his willingness to work, have made him an awesome Therapy Dog.